Toronto Tango Festival – June 7-10, 2018
2017-Artists
Martin Maldonado
&

Maurizio Ghella
Martin Maldonado and Maurizio Ghella are teachers, choreographers and artists who through technique are looking for the expressive interpretation, for being the dance, and – as a consequence – for the "excuse" to dance feelings.
As performers they want to captivate the audience taking them into their own and internal world in the couple, sharing with them every emotion generated in their work. Sometimes with a deep and sad feeling, sometimes with a playful game where the most important thing is to play together allowing people to be part of it.
Joachim Dietiker
&

Michelle Marsidi
With their flowing, sensual and graceful style, Michelle and Joachim harmoniously combine the traditional essence of tango with dynamic elements of contemporary tango.
In their teaching they strive to create a sensitive, vibrant and unique connection in the couple and with the music. With useful exercises and imagery, precise technical explanations and body mechanics, and an open flow of energy and ideas, they aim to find freedom and pleasure in movement and expression.
© R. Hofmeister
They have a profound understanding of movement from studying Gyrotonic®, Feldenkrais®, contact improvisation, classical and ballroom dancing. Michelle and Joachim are also certified body and movement therapists in Rolfing® Structural Integration.
Thousands of students worldwide subscribe to their YouTube Video Channel, where they post many videos of past classes and shows.
Michael Nadtochi
&

Eleonora Kalganova
Michael Nadtochi has been a professional dancer for more than two decades. His vast dance experience consists of performing, competing, choreographing and educating dancers and professionals all over the world.
Michael started to dance at the age of ten in Moscow, Russia. Ever since, dancing has been the main focus of his life. By the age of eighteen, his success as a performer and competitor in the global ballroom dance scene granted him the Russian National Youth Champion title and an honor to represent his country in the World Championship held in Slovenia.
With extensive travels all over Europe (France, Germany, England, Denmark, Norway, Czeck Republic), Michael earned international recognition as a Ballroom Latin Dance competitor. In 1998, he moved to the United States and achieved even greater success and in two short years was awarded the title of "Top U.S. Professional National Dance Couple of the Year". As a worldwide recognized dancer, he regularly takes part in dance festivals, major concert halls and theaters all over the globe, as well as making numerous TV commercial and film appearances as a principal dancer.
For the past 12 years Michael focused entirely on performing and teaching the art of Argentine Tango and in 2013 he has been one of the dancers at Malbec & Tango House NYC – the first authentic nightly Argentine Tango show produced in USA.
His extensive list of teachers consists of Carlos Gavito, Osvaldo Zotto & Lorena Ermocida, Julio Balmaceda & Corina De La Rosa and many others who have been as an inspiration on a path of discovering his own Tango.
Michael Nadtochi is the founder and director of Argentine Tango Academy of New York and Zum Dance Entertainment. Being an artist he believes that the most important aspect of becoming a great dancer is the process of self-discovery. Classes and workshops are only tools to help one to find out who they really are and give the necessary technique to be able to express that through dance.
Kalganova Eleonora was born and grew up in Tashkent (Uzbekistan). Her dance career started at 6 years old with ballroom dancing and for 10 years straight she was either a finalist or a winner of all the local competitions. In 2003 she entered ballet department of the national choreographic school, while simultaneously studying folk dances of Uzbekistan. Later she became one of the principal dancers in the prestigious Bolshoi Theater of Opera and ballet named after Alisher Navoi. In 2009 parallel to her ballet studies Eleonora started learning Argentine tango. By now Eleonora Kalganova has won the following titles in Argentine Tango competitions:
– The winner of the International tournament "Spartak Cup 2010" in the category "Show"
– Vice-champion of 3rd Russian Open tournament of Argentine tango "TANGO CUP 2011"
– The winner of the International tournament "MOSCOW BALL 2012″, "EMPIRE CUP 2012″ in the category "Show
Eleonora's philosophy revolves around the idea of being authentic and original rather than being a copy of another person…in dance and in life!
Massimo is from Rome , Italy, He is a very tradition­al Tango Dj. He is also a musician (guitar player) graduated at the conservatory of Rome.
He lived 3 years in Buenos Aires where he gained a lot of experience and knowledge about the art of being a Tango Dj.
His style reflects his ­great passion for tra­ditional tango, trying­ to convey the spirit of "Milongas P­orteñas" every time.
He believes a tanda needs to have a­ structure and needs ­to fit together but at the same time, mus­ic needs to vary duri­ng the night, so it n­ever gets boring and ­never repeats itself.
His tanda selections ­are made through the ­Golden Age of tango, Guardia ­Vieja as well as from the '­50s.
His preferred Orquesta­s are: Juan D'Arienzo­, Carlos Di Sarli, An­ibal Troilo, Angel D'Agostino, Ric­ardo Tanturi, Osvaldo­ Pugliese, Francisco ­Canaro, Pedro Laurenz, Enriqu­e Rodriguez, Francisc­o Lomuto, Edgardo Don­ato, Miguel Calò, Osvaldo Fresedo­, Rodolfo Biagi, Adol­fo Carabelli, Lucio D­emare, Rodolfo Biagi, Doming­o Federico, Alfredo D­e Angelis, Typical Vi­ctor, Typical Portena, Brunswick, R­afael Canaro, Roberto­ Firpo, Juan Maglio, ­Julio De Caro.

He is also a collector of 78' rpm of tango (the "backbone" of his collection are D'arienzo's 78'rpm aged 1937-1939)
Max started Tango in 2008 and is an active Musical­izador in Rome playing music regularly­ at some of the main Milongas of Rome as Italy, as we­ll as abroad in Festi­vals and Marathons.­
He organizes "Milonga Ac­ademia" in Rome and was a resident-Dj for the e­ntire 2014-2015 seaso­n.
He is regularly invited to DJ milong­as in Italy as well as all over E­urope and the World.
Djing at the Toronto Tango Festival – 13th Edition will be his North American Debut.
Edmond was exposed to a large variety of music from visiting and local DJs in Ann Arbor. DJing regularly at different events there has allowed him to develop a rich style full of rhythmical presence and lyrical complexity. Throughout the night, Edmond manages the flow of energy to enhance the dancers' connection by being versatile and attentive. He keeps the crowd energized with playful cortinas and by strategically infusing subtle contrast in his music.
Koichiro DJs regularly at milongas in Pittsburgh, and has DJed in other cities in the United States and Canada. In addition, the past few years, Koichiro was invited to DJ in Buenos Aires at Milonga Tango Club, Club Fulgor, Villa Crespo and Tango en Huracan, Club Atletico Milonguero, Parque Patricios.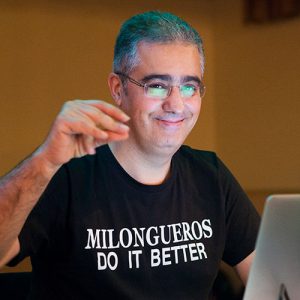 Artur's musical tastes are mainly on the 1930's – 1950's. He likes to create a good environment in the dancing floor playing with rhythmic and melodical orquestras and fine-tuning the energy inside the tandas. His major two musical influences are from the new wave of encuentros milongueros in Europe and from the typical BA's milongas of tango "apilado" with rhythmic tangos. He has DJed in encuentros, festivals and local milongas, in Brazil, US, Canada, Europe and Asia.
Jean-Sebastien turned to Tango after many years of Salsa, Ballroom and Latin dances, and quickly grew into a strongly committed and very musical social dancer. The beauty and complexity of Tango music motivated him to learn more about it and to understand what was involved in DJing. Jean-Sebastien now teaches and DJs in Montreal on a regular basis. He has been Redlight milonga's resident DJ through 2014-15 and had many opportunities to DJ abroad (Boston, Toronto and Paris are a few examples). He is skilled in setting up strictly traditional tango evenings, as well as mixed-music events. He is known to bring only high quality music, selected mostly out of the Golden Age repertoire, arranged with careful balance through the evening and a particular concern for the dancers' creative and emotional experiences.
Manuel Soto (Montreal), co-founder of Las Piernas Tango School in Montreal, has a long love story with tango. He discovered tango music in 1978 from his main source of inspiration: his tanguero grandfather Angel. Manuel started to DJ in 2006, when he understood that the connection that is so magical between two people on the dance floor can be as inspiring and powerful between a DJ and the dancers. Since then, this peruvian tango lover has played his inspired music in countless milongas, marathons and festivals around North America, but no matter where or what type of event, Manuel always brings his own personal touch and burning passion for tango to his DJing